Mazda CX-5 Towing Capacity

Compact SUVs are quite popular around Harrisburg, Mechanicsburg, and Carlisle for many reasons. They're small enough to navigate the city streets, but they're also spacious enough for a lot of people and items.
The vehicles also perform well, with one such example being the Mazda CX-5. It has good fuel economy and a comfortable ride. Plus, it can tow a good amount of equipment.
We'll tell you all about the Mazda CX-5 towing capacity below, along with its other performance specs. Read through our detailed guide, and contact us at Faulkner Mazda if you have any questions.
2018 Mazda CX-5 Towing Capability
The 2018 Mazda CX-5 can tow up to 2,000 pounds, when equipped with the proper equipment. This includes a trailer hitch, which will help make towing easier.
There are several things you could tow at 2,000 pounds. For instance, if you're planning on a fishing trip, then you could hitch a small aluminum boat to the SUV. Or, you could bring along a lightly loaded utility trailer to a campground for a weekend getaway.
There are a number of factors that help with the vehicle's towing capability. For example, it has 4-wheel disc, diagonal hydraulic brakes. These strong brakes will help bring your car and trailer to a stop.
The Mazda CX-5 also has sharp steering and agile handling. This means that you'll have no problem staying in control on even the windiest of roads.
Mazda CX-5 Performance Specs
The Mazda CX-5 may be able to tow a good amount, but its other performance specs are impressive, as well.
It comes standard with a SKYACTIV®-G 2.5L 4-cylinder engine that's mated to a SKYACTIV®-Drive 6-speed automatic transmission. The engine delivers 187 horsepower and 186 lb-ft of torque—great for the everyday commute. The transmission, meanwhile, shifts smoothly and quickly for a steady acceleration on the road.
This SUV is quite fuel-efficient, too. It achieves an EPA-estimated 25 city/31 highway MPG,* helping you drive farther for longer.
Furthermore, you can take on any road with confidence, thanks to the available i-ACTIV AWD® system. This system will continually monitor road conditions to determine when all-wheel drive may be needed. If the occasion calls for it, then i-ACTIV AWD® will evenly distribute torque between the front and rear wheels. This will help prevent wheel slip from occurring, so the vehicle doesn't go all over the road.
2018 Mazda CX-5 SKYACTIV® TECHNOLOGY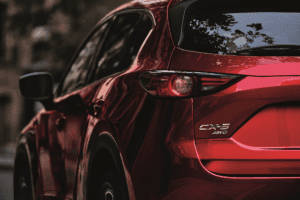 The Mazda CX-5 performs well mainly thanks to SKYACTIV® TECHNOLOGY. Through this technology, every aspect of the vehicle is engineered to maximize both efficiency and driving dynamics (including the towing capacity).
One part of this system is the SKYACTIV®-VEHICLE DYNAMICS with G-Vectoring Control. When you go around a corner, it'll adjust power delivery and shift vehicle weight. The process is done subtly and seamlessly, resulting in a smoother and less fatiguing drive.
There's also the Cylinder Deactivation found inside the engine. This system will shut down two of the four cylinders whenever you come to a full stop or whenever you maintain a set speed on a flat road. By doing this process, you'll improve fuel efficiency even more. As a result, you can get to your destination without having to stop at the gas station to refuel as often.
Test Drive the 2018 Mazda CX-5
There's a lot to like about the Mazda CX-5, including its towing capacity. But, if you're still not sure if this SUV is right for you, then stop by Faulkner Mazda. We'll have you take the car on a test drive, so you can see how it'd perform around Harrisburg, Mechanicsburg, and Carlisle.
Don't wait. Test drive the 2018 Mazda CX-5 today!
*EPA-estimated mileage. Actual results will vary.