Best Pizza Places Harrisburg PA
While big cities like Philadelphia, New York, and Chicago all bicker over who tosses the best pie, those of us in the know realize you don't have to travel too far to find quality pizza right here in Dauphin County.
Whether you prefer a thick Sicilian slab or a traditional thin crust, here's the slice on the best pizza places near Harrisburg, PA, to order up everyone's favorite Friday night treat!
Nikoli's Pizza and Catering
Our Favorite Slice – Nikoli's Famous Italian Style. A perfect marriage of traditional pizza topped with Italian sub ingredients including salami, capicola, provolone, lettuce, tomatoes, and oil.
Located in Camp Hill, this cozy neighborhood spot has been tossing dough and rolling Boli's since they first opened their doors in 1972. Dedicated not just to spreading sweet tomato sauce, the team at Nikoli's also hopes to spread what they call #pizzaonearth by being a positive force in the community.
This means going the extra mile by giving back to local charities or by doing something as simple as including a special little note inside a delivery box. It's this selfless and creative approach that makes Nikoli's worth a visit. That and the fact that their pizza is simply spectacular. Read more on their Facebook page!
Pizza Delight
Our Favorite Slice – Mediterranean Pizza. A fresh and delicious pie that uses simple ingredients including spinach, garlic, feta cheese, spicy tomato sauce, and olive oil.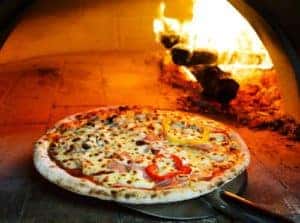 Whether looking for a quick bite after the big game or a late-night treat, this convenient pizzeria located on Derry Rd. in Harrisburg has a menu designed to literally delight any palate. Offering a long list of traditional round pies along with their thick Sicilian square pizza, you might have trouble deciding on which style you prefer more.
To complement their famous pies, Pizza Delight also offers hot and cold subs, fresh salads, and pasta specialties all made in-house. Continually adding to their stellar menu, make sure to check out their daily specials and new items throughout the week. Check out their Facebook page for more information!
Zeiderelli's Pizza & Subs
Our Favorite Slice – Veggie Pizza. A symphony of delicious flavors that won't make you feel guilty about grabbing an extra slice or two.
Just a quick hop over the Market St. Bridge from downtown Harrisburg, this tiny storefront hides a gigantic selection of tasty pizzeria classics. A staple among the hungry residents of Lemoyne, Zeiderelli's has been slingin' sauce and making people smile since they first set up shop over 15 years ago.
Over the years their pizza and other treats have become so popular that they had to expand operation! Offering five convenient locations from Lemoyne to Newport, means you're never too far from their extensive menu and fast service. Explore their Facebook page for more information!
Savor These Famous Spots!
Now that we dished up our list of the best pizza places near Harrisburg, PA, we encourage you to go and try them out for yourself! Make sure to visit these fantastic pizzerias or check them out on social media today!