Best Outdoor Bars Harrisburg PA

On the hunt for an outdoor bar near Harrisburg where you can enjoy a brew in the summer sun? You're in luck! When you're craving a cold beer and some Vitamin D, check out Capital Gastropub, Greystone Public House, and the Sturges Speakeasy. Read on to learn more about these three great Harrisburg, PA bars!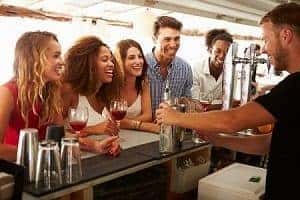 Capital Gastropub prides itself on being "not quite a bar and not quite a restaurant" by offering a unique yet casual combination of the two. Whether you're just having a relaxing drink after work or are a self-proclaimed beer enthusiast, the Capital Gastropub has a brew for you.
In addition to good drinks and an expansive Britain-inspired menu, Capital Gastropub offers a big rooftop garden. Sip on a cocktail, chow down on happy hour plates, and enjoy some sun right in the middle of the city.
The building where Greystone Public House resides today has been serving up good drinks and a welcoming atmosphere since 1805 when Harrisburg was in its earliest stages of development. Now, more than 200 years later, Greystone Public House continues the tradition with unique drinks and a day-long menu.
Greystone Public House features an outdoor patio where dinner and a wide array of beer and cocktail specials can be enjoyed.
When you step into The Sturges Speakeasy, you'll encounter a tasty twist of casual drinking and fresh plates featuring seasonal specials. Choose between 16 hand-selected, rotating craft brews and a wide menu featuring shareable starters, Speakeasy sandwich boards, and even brunch items.
On their rooftop deck, The Sturges Speakeasy offers the ability to take your meal and drinks outside. You can even reserve this space for your next private party, fundraiser, or office happy hour.
Enjoy the Weather
Next time you're craving a cold drink and some good food in the warm sun, head on down to Capital Gastropub, Greystone Public House, or The Sturges Speakeasy!