Best Golf Courses Harrisburg PA
With the backdrop of a city like Harrisburg, golfing is a dream sport.  Not only do you have beautifully designed and challenging courses, but the view is killer and a round without some wildlife is rare. Take some time out for yourself or your family and get in a nice eighteen holes after a long day at the office or on the weekend.
Colonial Golf and Tennis Club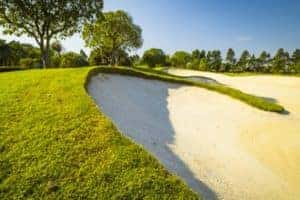 Try your golf skills out on the rolling hills that the Colonial Golf and Tennis Club has to offer. With golf associations available for both men and women, this club has plenty to offer for the whole family including a youth golf club.  Whether you need instructions or if you're an old pro, you will get everything you need to further your golf game.
As a private club, membership is required to golf and enjoy the other amenities provided at the Colonial Golf and Tennis Club. Grab a lovely dinner with your family or simply settle in for a nice round of double on the professionally designed tennis courts. Look at what others have to say about them on their Facebook page.
Country Club of Harrisburg
Set back from the main thoroughfare through the area, you'll find this club nestled back in the serenity of a wooded area, complete with a stream, pine trees, and a gorgeous view that only the Pennsylvania mountains can provide.  The Country Club of Harrisburg is a full-service club that offers not only a beautiful round of golf, but also swimming, dining, and tennis.
Should you be looking for a gorgeous location at which to hold your next large event, the banquet center and catering department offer a lovely venue.  Once again, membership is required, but members have access to several incredible amenities on the premises, including a course designed by William Flynn, himself.  Check out their Facebook page for a mere preview of what the grounds have to offer.
Valley Green Golf Course
Under new management, this golf course is a public course that offers a challenging and lovely day of golf.  You can check about leagues, lessons, or packages in their pro shop or get yourself a season pass to enjoy as much time on the course as you can.  Coupons are also available to offset the costs of a round on this beautiful course.
In addition to being under new management, Valley Green has also added a brand-new deck for their customers to enjoy.  Grab a stupendous burger or another bite to eat at Hogan's, their on-site restaurant, after a long day at work or sit down with event planner to have them host your next event.  Peruse their Facebook page for more details.
A Good Walk Spoiled
Mark Twain once said that "golf is a good walk spoiled", but it's safe to say he was probably never on one of these three beautiful courses in the Pennsylvania countryside.  Make it a family outing, have a guys' night, or just take some time to enjoy yourself, but be sure to get out on one of these courses soon.